----17th Annual Gaspar-T----

2014 January 25th

11:00am - 6:00pm

Make sure you contact your Gaspar-T crew member to reserve your tickets before they are all gone!!

You'll be able to pick up your tickets on Tuesday the 14th at the Press Box, 7:30-9:00pm.

Wear your favorite pirate costume. Best costume wins a Gaspar-T surprise!!

The party starts at 11:00am on Saturday, January 25th 2014

Location is now at Howard and Bayshore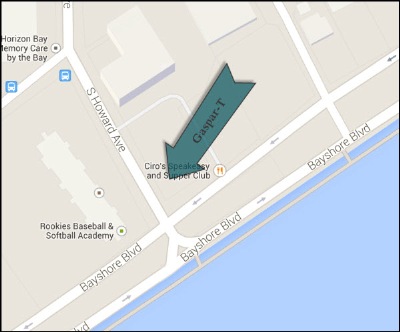 $50

***All sales are final, No refunds due to bad weather***


Food will be provided by PORT-A-PIT BAR-B QUE


BBQ Chicken
Pulled Pork
Hamburgers and hotdogs
Coleslaw
Potato Salad
Baked Beans
The Glenn Cummings Band is a Tampa based group that is fronted by national recording artist Glenn Cummings. The band melds their eclectic collection of influences to create a sound that is hard to put into words. Let's just say that the band is everything you always wanted to hear.